Drive in, Drive out Turbo Kit package for the Toyota GT86, Subaru BRZ or Scion FRS from Tuning Developments.
Tuning Developments have been testing and fine tuning our very own GT86 from new, having explored various avenues of performance improvement, the finished product is now available, the Tuning Developments Turbo Kit for GT86, BRZ or FRS.
Since both the Toyota GT86 & Subaru BRZ were laucnhed, a common finishing comment from anyone having a test drive would be that the chassis could easily cope with more power, and that if it had a 'little more go' it would be perfect. This is where Tuning Developments have stepped in and given an excellent option to the marketplace. Take a stock GT86, BRZ or FRS and dyno it. On our Dyno Dynamics machine we have ran many vehicles now and have a large catalog of results. Generally a stock car will run between 180bhp & 190bhp at the flywheel. With most of the power at the high end of the rev range, after 5500rpm. With the Tuning Developments Turbo Kit install, the car now produces these sorts of power levels at just 3750rpm. Making now 50% more power and 45% more torque!
Throttle response is improved over the standard car, along with bucket loads of mid range torque when comparing to a factory car. A dyno overlay can be seen further down this page showing just how much more drivable your GT86, BRZ or FRS could be with one of these Turbo Kits!
Our particular stock GT86 made 184bhp with 160lb.ft torque as the peak numbers; the same car now makes 278bhp with 230lb.ft torque at just 5psi (0.35bar) of boost. That is an increase of 94bhp and 70lb.ft Torque over the standard car! For such low boost pressures this is an impressive feat, yet it is far from showing the full picture, overlaying the dyno data really does show how night and day the difference is.
The really exciting point is that the Turbo Kit does NOT lose ANY power at ANY RPM compared to the stock car; it makes MORE POWER, ALL of the time! At 4,000rpm the car is making 75bhp and 90lb.ft Torque MORE than a factory car, making joining motorways, overtaking and so on far easier and removing the need to rev the engine as hard as you would do with a standard car. That being said, if you do let the engine stretch its legs it certainly picks up speed much, much faster than the factory car! A nice smooth, relentless pull right the way into 5th and 6th gears with no signs of letting up. The Tuning Developments GT86/BRZ Turbo Kit is also stock fuel system friendly along with stock clutch friendly in this baseline trim, another positive.
To live with, the car is still as simple and nice to drive as Toyota and Subaru intended, economy when driving sensibly is not effected and we often see over 40mpg on a run despite having over 50% more power on tap.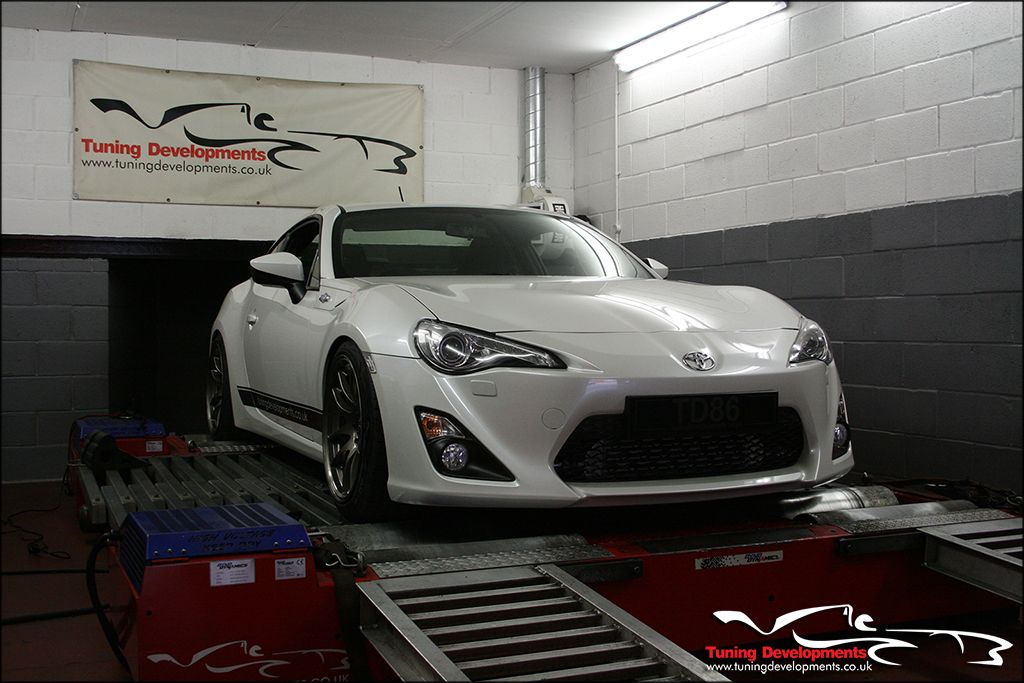 The Tuning Developments GT86/BRZ Turbo kit is manufactured here in the UK and is based around a Precision Turbo with CEA Billet Technology. Despite being a fairly large frame of turbo, the car makes 5psi of boost pressure before 3,000rpm meaning that there is no feeling of turbo lag that is sometimes associated with turbo cars, instead, the Tuning Developments Turbo Kit gives off an impression similar to that of a much larger engine, offering a broad and more importantly useable torque band. The upside of using a larger frame of turbo is simple, future proofing. This turbo kit will not need any upgrades in the future if more power is wanted. Simply add fuel system and drive train upgrades along with ECU boost control and more boost pressure can be added (Testing is ongoing at the moment). The GT86/BRZ Turbo Kit is capable of 475+ bhp without any hassle. The turbo unit itself is rated well in excess of 500bhp. Making the Tuning Developments GT86/BRZ Turbo Kit the perfect choice for your GT86, BRZ or FRS!
Included In This Package:
Stainless Steel Exhaust Manifold (Equal or Unequal Length)
Stainless Steel Uppipe With External Wastegate Takeoff
Stainless Steel 3" Downpipe
Precision CEA Billet Turbocharger
TiAL MVR 44mm External Wastegate
Aluminium Intercooler Core
Stainless Steel Intercooler Pipework
Silicone Joiner Hoses For Intercooler Pipework
Oil Feed & Return Lines For The Turbo
Modified Sump Pan To Accept Oil Return
Turbo Blanket
Heatwrap For Downpipe
Gaskets
Vacuum Hose
Nuts
Bolts
Full Installation Of All Items At Our Workshop
Engine Oil & Filter Change
ECUTeK License (One Off Cost)
Remap Session via ECUTeK On The Dyno Including Printouts (For those interested in 'before' figures, please ask)
ECUTeK 'Racerom'
Fitment
Toyota GT86
Subaru BRZ
Scion FRS
Please Note: We recommend customers to have an aftermarket exhaust system along with 2nd decat pipe and overpipe to allow for maximum performance gains, the 2nd CAT is very restrictive when turbo charging. These are available in house and at a discounted 'supplied and fitted' cost when ordered with a turbo kit.
More Power
More Torque
More Driveable
More Enjoyable
More Smiles!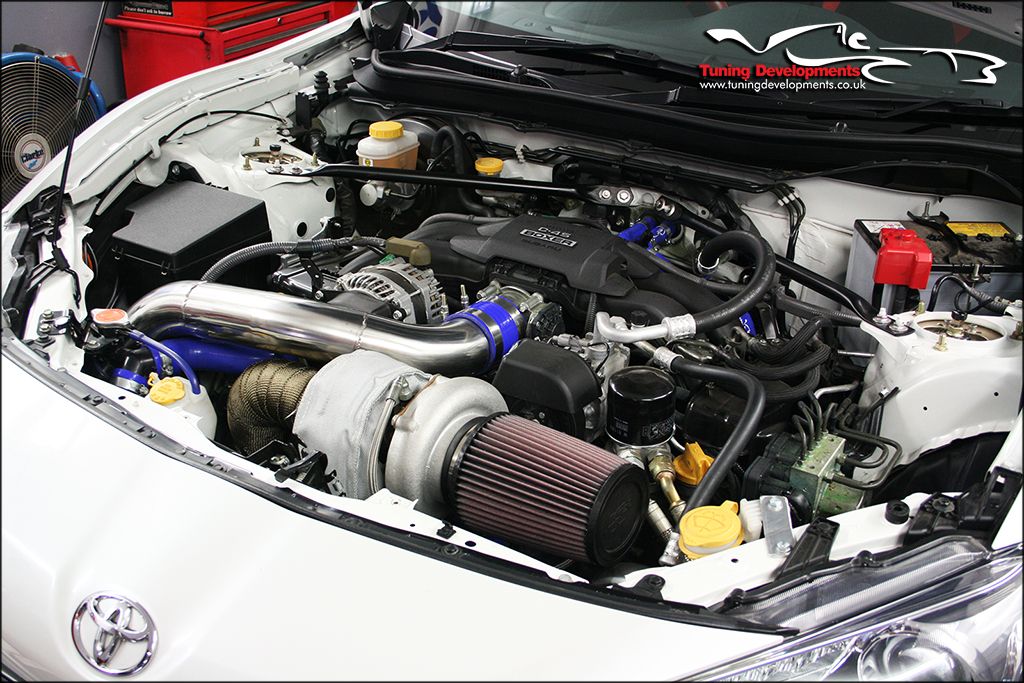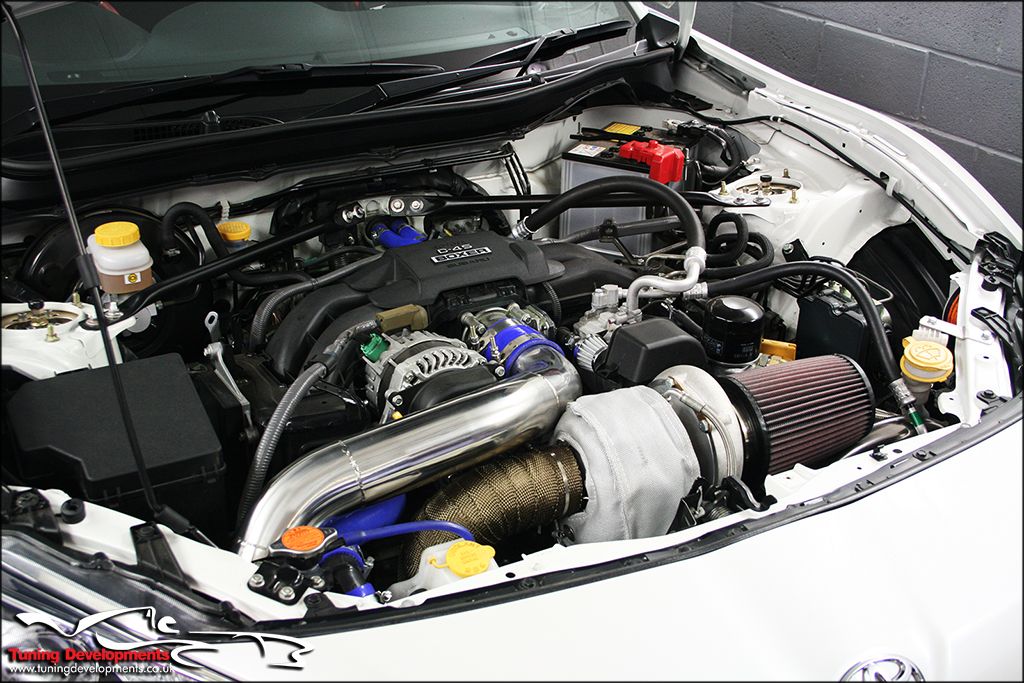 Stage 2 Upgrade:
To show the potential of the Tuning Developments Turbo Kit, the video above shows our soon to released stage 2 package. Taking power outputs to the next level whilst keeping the engine internals in stock form. Power is up from 280bhp to 330bhp and through the ECUTeK RaceROM software, switchable maps are activated allowing power levels from 280bhp upto 330bhp to be activated on the fly whilst driving.
Stage 2 consists of the following upgrades in addition to the stage 1 package:
Upgraded Exedy Clutch Kit
Gearbox Oil
Upgraded Omni Power FA20 Engine MAP Sensor
3 Port Electronic Boost Control Kit
320lph Tuning Developments In Tank Fuel Pump Kit
850cc Injector Dynamics Port Injector Set
Installation For All Of The Above
Dyno Setup & Mapping Including Switchable Boost Maps Via ECUTeK RaceROM
Transform your FA20 today with Tuning Developments.
#transformyourfa20